International AFfairs in Schools
The Responding to Armed Conflict presentations focus mainly on general discussion on nuclear disarmament, the current political climate and state of warfare, Pacific nuclear testing, the sinking of the Rainbow Warrior, Israel/Palestine, the US gun control debate and the history of New Zealand's peace and disarmament legislation.
In order to fit with the New Zealand school curriculum, the topics are flexible so if there other specific topics that are being taught in classes that a teacher would prefer us presenting on, (still within the scope of international armed conflict), we can shape our presentations around this as well. 
REACT presentation in your school
These presentations are completely free to schools. Our Youth Programme Coordinator, Tamkeen Saeid, would travel to the classes when booked, at a time that suits teachers and students.
Email: tamkeen@peacefoundation.org.nz to organise a topic and a time!
Peace Ambassador programme
The purpose of this programme is to build a network of engaged and connected youth who are leaders in their communities.
We provide participants the resources to promote peace in their own networks as well as advancing their leadership skills. There is great flexibility in the kinds of events that the Peace Ambassadors can be a part of as the programme provides a platform for the ambassadors to lead each other and their communities in change they are passionate about.
The Peace Ambassadors are a youth wing of the Peace Foundation who meet on a regular basis to plan, organise and engage in community activities and events including the annual Youth Peace Week and Secondary Schools Peace Symposium.
The ambassadors give youth insight for the Peace Week theme, structure and promotion, and the information collated in the toolkit; they attend planning meetings with external organisations and also facilitate group discussions at the Peace Symposium.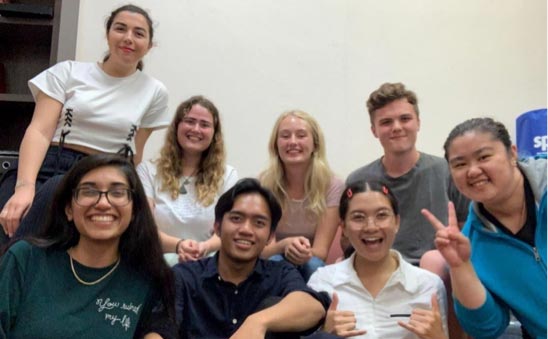 Interested?
This programme is available to students at minimum 15 years old.
If you are interested, email the Youth Programme Coordinator, Tamkeen Saeid: tamkeen@peacefoundation.org.nz
This experience for me is very difficult to explain. It was so life changing, supporting and deep that I don't have enough words to explain how great of an experience I had. I would encourage all of my friends to go on retreats like this so that we can all understand the importance of having a stable and balanced wellbeing. Going on retreats like this gives us a moment to step back and reflect on life and slow down time for a bit. It definitely helped me understand the important aspects of my life and my purpose in life.
What a life changing experience. So grateful for all the skills I've learnt and how much I've developed over the weekend. I can't thank you enough for being such inspirational people.
WayFinder helped ground me and also reminds me of my place in life, my community and how I can help others. It gives me motivation to put my ideas into practice and to do something for the community.
What a journey it's been for the last few days. It was a truly awesome experience. I really appreciate the bonds we've made and the lessons and skills we now have.
The single most valuable thing I learnt at this event was that it is important to believe in yourself and self love. I also learnt that finding your purpose in life acts as a major motivational factor.