Primary Schools
Years 1 to 8
Cool Schools Peer Meditation
The Cool Schools Peer Mediation Programme is a whole school programme that teaches essential life skills for peaceful conflict resolution.
Cool Schools is a student-centred programme focused on providing students with skills to support their peers to resolve conflicts in a constructive way. They empower students to assist in the management of peer behaviour at school, creating a school culture where students can recognise anti-social behaviour, understand the impact of it, and have the skills to respond. The programme teaches relationship building skills, including reasoning, social skills and conflict resolution. They offer learning experiences that support students to develop an increased range of prosocial strategies and behaviours including helping, caring, empathy and social problem‐solving behaviours.
The programme also provides students with pathways to develop their agency to lead and to do good in the school community. Students trained as peer mediators, can step up as leaders and role models. They can become "Ambassadors of Social Justice" or "Peace Ambassadors", modelling and promoting the importance of kindness, fairness, empathy and respect for all.
Research on Cool Schools notes that schools value the programme's reputation, the reduction in the number of conflicts, and the increase in students' understanding on behaviours that are not acceptable.
The Aims of Cool Schools
Develop a whole school-wide approach to dealing with conflict.
Provide opportunities for students to demonstrate and apply positive behaviours.
Reduce negative behaviours such as aggression, bullying or violence.
Build student resilience.
Empower students to co-create a friendly, respectful, and safe school climate.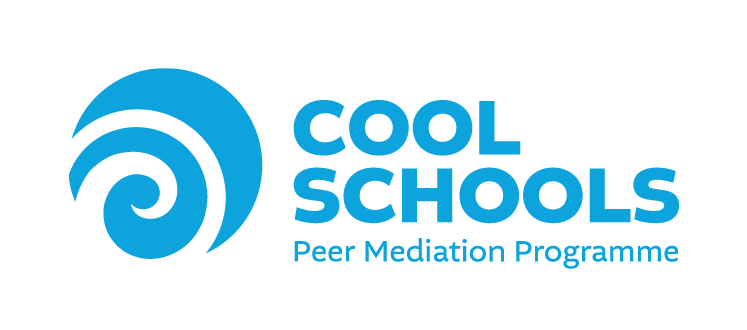 As a Cool School we observed that the whole culture changed. Children were using the language of conflict resolution in and outside the classroom. Families contacted us to say that their children were using the conflict resolution skills at home. Peer mediators felt empowered and demonstrated their leadership skills by running peace events and thinking of ways to make the school a more peaceful place.
What Is Peer Mediation?
A structured process that uses a neutral person, the mediator, to help those in conflict to come up with their own solutions for a win/win outcome. Mediation is a voluntary and confidential process to constructively manage conflict.
The New Zealand Curriculum states:
"For students to lead full and satisfying lives, they need to be supported to: build resilience, a positive identity and empathy; learn how to co-operate and negotiate; and develop competencies for mental wellness and safety management."
The Benefits of Peer Mediation
Uses students to act as third party between peers in conflict (disputants).
Creates opportunities for disputants to do their own problem solving.
Encourages empathetic listening.
Uses effective questioning techniques to assist disputants to come to their own win/win solutions.
Gets to the core of the problem quickly.
Empowers students without teacher intervention.
Principal Recommendations
Primary mediation
stages 1 & 2 (Year 4-8)
Primary mediation
stages 3, 4 & 5(Year 4-8)
Junior mediation
(Years 1 & 2)
Comments from primary mediators
Letters of Support for Cool Schools
Interested?
The Peace Foundation provides funding to support the staff training, revisit and key implementation resources.