SECONDARY Schools
Years 9 to 13
Leadership Through Peer Meditation
A conflict resolution programme for secondary school students which empowers students trained as 'mediators' to take ownership in helping to resolve minor disputes among peers within the school setting.
Leadership through Peer Mediation (LtPM) is a conflict resolution programme for secondary school students which empowers them to facilitate a peer mediation service by students trained as mediators. Peer mediators support their peers in conflict to reach peaceful agreements without teacher intervention. Students are enabled to become 'ambassadors of social justice' or 'peace ambassadors', student leaders in the school community promoting fairness and respect for all students, watching out for harassment and bullying and helping students to get the support they may need.
LtPM gives students an opportunity to realize the New Zealand Curriculum's vision of creating "confident, connected, actively involved life long learners". The programme is congruent and reinforcing of all the values and key competencies, especially 'relating to others, managing self and participating and contributing. It supports the New Zealand Curriculum's emphais on students having agency over their learning and the development of positive, collaborative relationships between teacher/student and student/teacher.
LtPM helps schools to prevent and deal with bullying by empowering students with skills to be 'the agents of change'.
THE BENEFITS OF LtPM
Students supporting students in helping to create a safe, respectful school environment.
Students are empowered with skills to help prevent and deal with bullying behaviour.
Peer mediation encourages students to find non-violent solutions to their problems.
Teachers refer minor conflicts to the peer mediation service and therefore are less stressed.
Promotes a student owned and student led service which gives student participants a sense of purpose, belonging and pride in their school.
Resilience building as well as confidence-building for all students involved.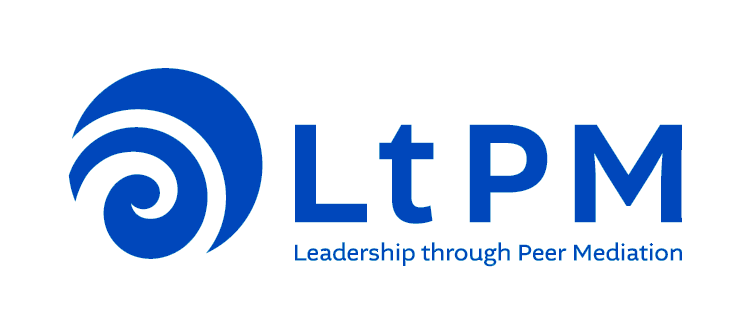 The Peace Foundation's secondary school training contributes significantly to student wellbeing. It has been incredibly rewarding to see students thrive, grow in confidence and feel their own dignity is enhanced. The programme is empowering for students as well as teaching them life-long skills to resolve conflict in a peaceful, respectful way.
To raise awareness of conflict and conflict responses.
To build student resilience and empower students to co-create a friendly, respectful, and safe school climate.
To teach life long conflict management skills.
To develop empathy so that individuals listen to each other with understanding.
To develop leadership in giving service to others through peer mediation.
To grow respectful, global citizens who value diversity and human rights.
To reduce behaviours such as aggression, bullying or violence.
To empower individuals in making positive choices for building successful relationships.
Being a peer mediator has boosted my confidence and has given me comfort that there are students who are willing to help stop bullying at school.
As a mediator I feel like I am part of a huge family who look after each other and support others in the school.
Letters of Support for LtPM
What Is Peer Mediation?
A structured process that uses a neutral person/s (the mediator/s) to help the people in conflict (the disputants) to come up with their own solution/s for a win/win outcome. Mediation is both voluntary and confidential. Mediation is a constructive way of dealing with conflict.
Mt Roskill Grammer School
Over 25 years implementing LtPM
What the Students Say about LtPM
Interested?
Communication Skills for Leadership
(Years 9 – 13)
This is a training day for students focused on peaceful conflict resolution skills for young leaders. It is similar to the Leadership through Peer Mediation (LtPM) training with the difference being that it does not focus on training students to be familiar and engaged with the peer mediation process. Instead, they learn skills to 'be their own mediator' when in conflict themselves or when helping another peer (or peers) with a problem.